Few businesses today would say that customer service wasn't a top priority for them.  
But there's delivering good customer service, and then there's delighting customers.
Why it might pay to Delight Customers
Delighting customers might just be the most effective marketing level there is for small businesses. It can be an incredibly powerful and relatively low cost growth tool.  It generates fans. 
This in turn should help yield:
higher repeat custom

more (and more positive) reviews

strong word of mouth referral (i.e. they tell their friends about you). The holy grail of marketing particularly in the age of social media
What Delighting Customers looks like
After more than a dozen years of serving (online) customers in their hundreds of thousands I've seen my fair share of customer experiences.  
I believe there's a simple formula to generating delight - a customer's actual experience of both your product and your service, needs to exceed their expectations.
Customer Delight = Experience (of your product + your service)  > Expectations
Good customer service (accompanied with a good product) matches customer's expectations. All customer's expect good service (and expect that the product they buy will be good and meet their needs).  It will please them, but it won't actively delight them, and therefore won't be a strong driver to loyalty, reviews or referrals.
On the flip side, customer service (and/ or products) that fall below expectations leads to dissatisfied customers.  Crucially - you need both levers to meet expectations - a good or even great product doesn't counteract a bad service experience.  Where the shortfall gap is wide you lose not only repeat business but also risk negative reviews and negative referrals.
The sweet spot is delivering both a product and customer service that exceeds customer expectations.
Simple right?
Delighting Customers
Here's some examples of what delighting customers through the service you provide might look like. (Vs. simply meeting expectations by delivering good customer service).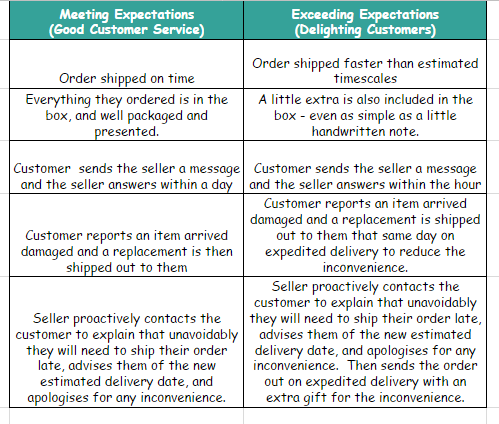 Often delighting customers can mean a little more time and/ or cost both of which are a challenge for any small business but often a little gesture goes a long way.  The key is just to do the unexpected and surpass their expectations - it can be meeting expectations in all areas and one little extra touch that tips the experience in to delight.
Share in the comments - aside from your product how does your business look to delight your customers?  What great examples of exceeding customer expectations through great service have you seen?