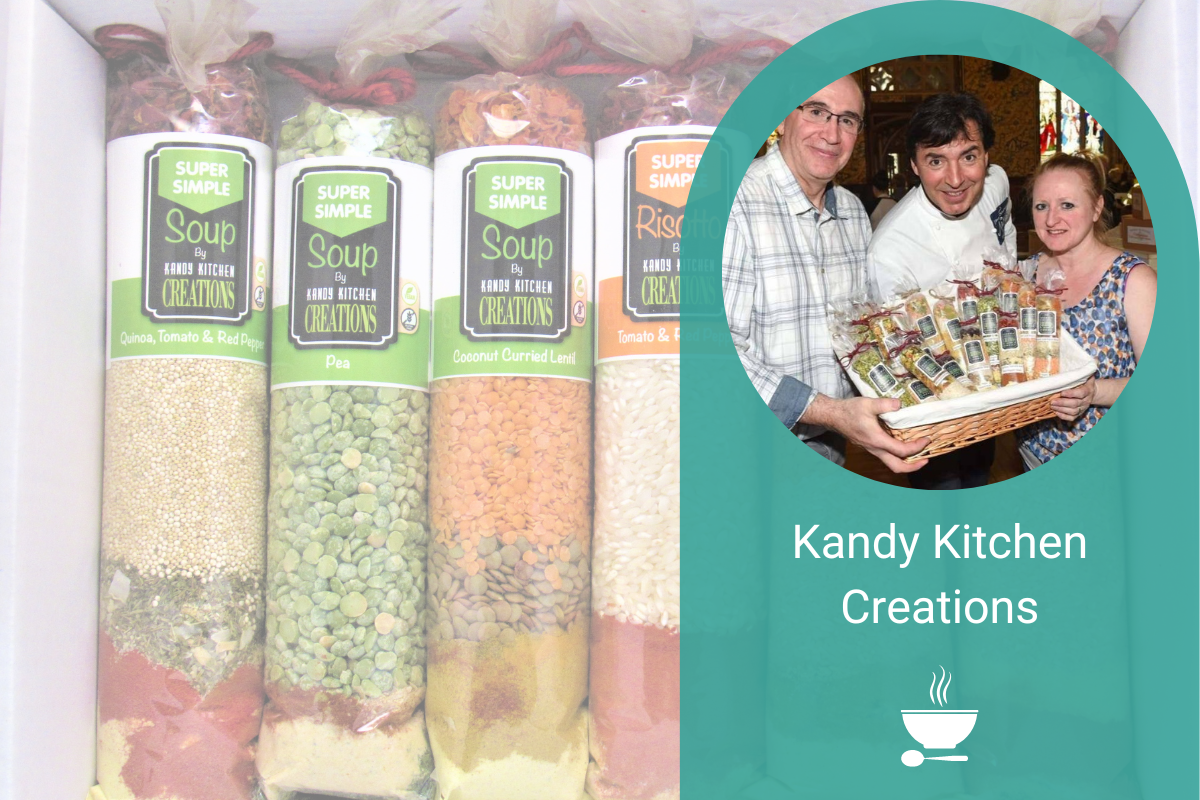 Karen and Andy are the masterminds behind these fabulous packaged soups, stews and risottos. Using natural ingredients and easy to make recipes, what's not to love! Here is the story behind Kandy Kitchen Creations and what Karen and the team had to say..

When did you begin and what inspired you to start your business?
My background is in childcare, training and apprenticeships. I was self employed at the time and was initially looking for something different to do for one day a week. We went on holiday to Canada and saw a product which caught mine and Andy's eye, we'd never seen anything like it in the UK and could this be something that I could develop further within the UK? So we put together the ingredients for a few British style recipes on our kitchen table, we tried them out on friends and then took some to a Christmas market and received some really positive feedback. Life soon changed, and it quickly went from a day a week to full time and we now employ staff and have a large unit, Oh... and we've been on the tele! (Dragons' Den - Series 19 Ep3) twice!
What do you love most about your job?
I love seeing the products that we hand make, fly out of the door as fast as we can make them. I love seeing the amazing people who help and work for us, actually enjoy coming to work. I love hearing feedback from our customers and retailers.
What's the most challenging part about running your business?
Running a small, but growing, business is a daily challenge as there are so many plates to spin all at the same time. The pressure comes from knowing that at any moment any one of the plates can come crashing down. The other challenge is to understand that you can't please all the people all the time and not to take peoples opinions personally.
How has food inflation affected your business and how are you managing it?
The price of some of our ingredients has doubled (more than, in some cases) over the last 12-18 months. We're managing it at the moment but there's only so much that people will pay for a product and we need to keep that in mind when considering any price increases to cover the rising costs. Shipping has also increased, along with staffing and utilities which also needs to be taken into account. Because our product is time intensive to make, it's really difficult to put more pressure on staff to make more in less time, however currently this is the only way that we can counteract the cost of ingredients without cutting down on the range of products we make.
What resources do you use to stay up-to-date/ahead in the food & beverage industry?
We are currently working through the SALSA standards to gain accreditation and this is helping to further develop our knowledge of our business to ensure it remains up to date in relation to regulations around areas such as allergens, which has been highly reported on in the last few years.
What would you do differently if you could go back and start your business again?
I don't think we would do anything differently. I think that things happen for a reason and if you have a good business idea then going with the flow and growing organically, learning along the way, making improvements as they're required and being responsive to ideas is better than having too many expectations of what should happen within a short timeframe and then being disappointed when things don't happen the way you had expected.
What's the best business lesson you've learnt?
Andy is always telling me to stop beating myself up when people voice their opinions about things; they're not having a go at you personally, you are only one person and can't do it all by yourself. You can't please all the people all of the time. There are always going to be people who think they know your business better than you.
Really get to know and fully understand all aspects of your business.
Learn to let go a little - I know that I'm an important member of our team, but I don't have to be there all the time. Believe in your staff and allow them to carry on doing what they do. If you've taught them well, the place won't fall apart if you're not there. You need time for yourself and your family too. If you've got an idea, just go for it, be confident in your product and enjoy the satisfaction of knowing that ""you did this!""
Check out Kandy Kitchen's Creations products, here >>
Want to get involved?
If you wish to take part in this series then you have two options:
1) for a video interview you can book here, or
2) we can produce a written interview article - simply complete the questions here.