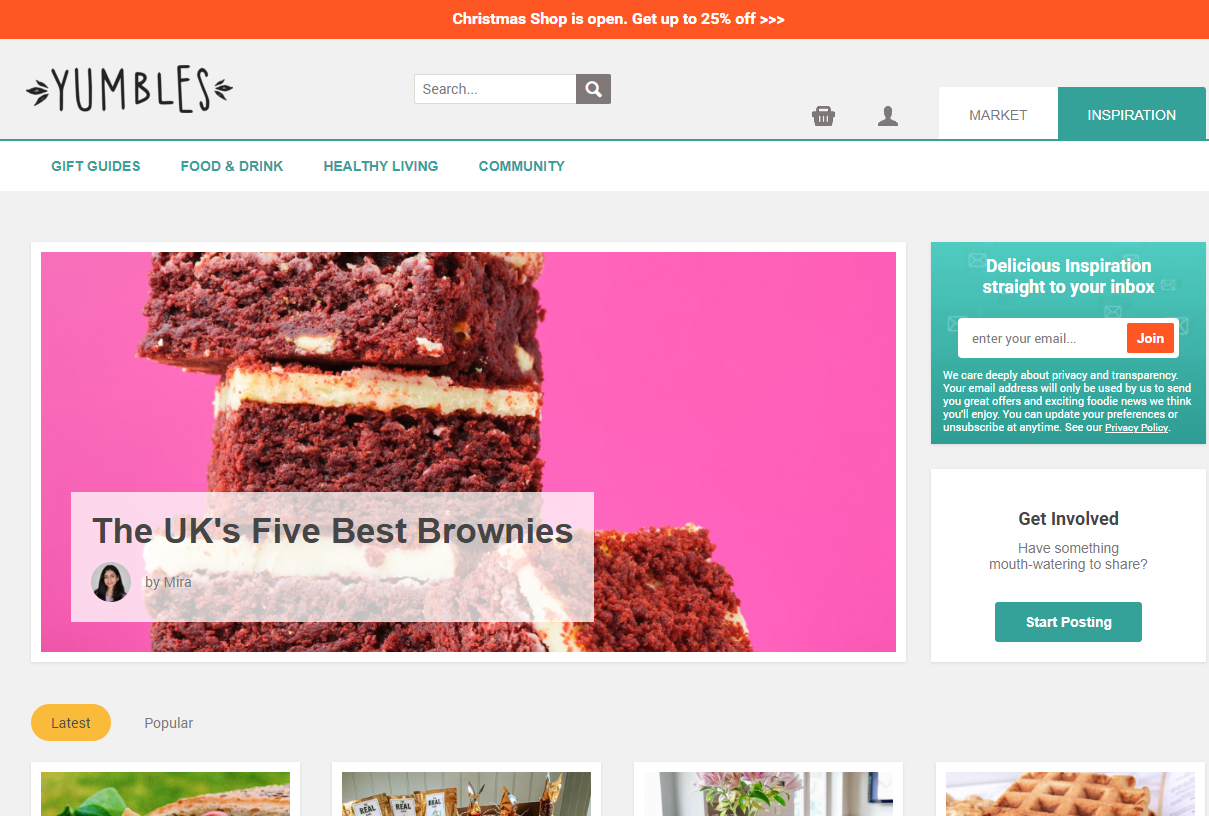 Yumbles is more than just a marketplace - the Yumbles Blog enables you to engage with an audience excited by quality food & drink and artisan gifts and grow your brand awareness by posting fantastic content.
How you benefit
Your blog article will include a link to your Yumbles shop (via your profile - see steps below).

We will also add some of your key poducts at the side of your article, particularly any that relate directly to your article. So anyone reading the article will be easily able to shop from you.

We will also promote the best articles across our social media channels and in marketing emails for even bigger reach.
What to post
Start by taking a look at posts already in the blog for inspiration and the topics. Think about the types of content your customers would be interested in reading, and go from there. The most important thing is to write a really authentically interesting piece of content. Write about what you know!
Recipes are great but don't just be limited to that, other ideas include:
a round-up of unique meal ideas along a particular theme (see the category for recipes & meal ideas)
interesting info about an unusual ingredient you use or your product type if it is new (see the category for food guides & reviews)
a simple and engaging guide to how your type of product is made (see the category for food guides & reviews)
share amazing tips and How's To for home cooks or home bakers based on your own expertise (see cooking & baking tips)
your own take or commentary on a particular hot food topic or trend (see the category for food guides & reviews)
tips & advice (or meal ideas) on healthy eating related to your expertise (see the articles under Health Living)
Content Guidelines- Do's and Don'ts
Do write a genuinely interesting article that is not simply an ad for your business. You can of course reference your business and any products relevant to the content but do so in a way that fits within an overall engaging piece.

Add a great, eye catching image to your post related to the content. Make sure it measures at least 1024 pixels wide x 764 pixels tall, and is no bigger than 10mb.

Don't upload images that contain graphics or text. Food & drink lifestyle images or photos of people only.

Keep your posts under 500 words.

Use formatting such as paragraphs, bullet points and spacing to break-up your text and make it easy to read.

When coming up with titles for your posts, think what types of articles grab your attention online. Be literal rather than cryptic, so people know what your post is about. For example: "Can You Drink Red Wine and Be Healthy?", "5 Cauliflower Hacks You'll Love". If in doubt, take a look at other posts on the Yumbles Community to find relevant examples.

The Yumbles Community is a place for you to inspire, and be inspired. For that reason - we'd love you to keep your posts positive, upbeat and engaging. Most importantly though - have fun, and be yourself! Share your passion, and if in doubt - write like you'd usually speak.

Do post unique content. If you have written about the same topic elsewhere please at least switch up some of the text in the article so it is not an exact copy. Search engines like Google do not like duplicated content.

When making health claims, please relate these to personal experience (where relevant), or cite relevant research. Please do not share anything that could be construed as medical advice, unless you are qualified to do so.
How to get started
1. Complete your Yumbles profile here.
This will be shown on your article as the author info.
Put the URL for your Yumbles shop in the field for "website". Please don't put your own website here, if you do your blog post will not be published.

Upload a photo of you/ your team. Please do not upload a logo or product photo here.
Make sure you adhere to the content guidelines above.
Once you have submitted your post please allow us 2-3 days to review and publish it. If we feel we can't publish your post then we will send you feedback.