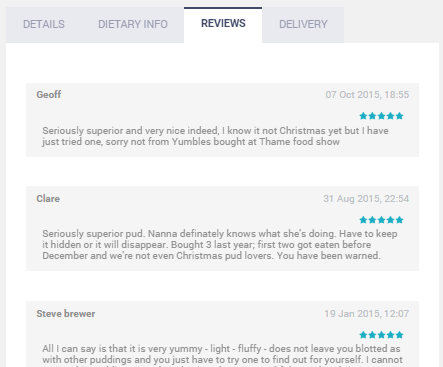 Product reviews continue to be an important influencer of online sales with industry analysis indicating that as many as 92% of online buyers read reviews.
All Yumbles customers automatically receive an email request to review their purchase however here's three easy ways to boost the number of reviews for your products.
1. Give standout service
Of course. Customers will be much more likely to leave a review for you if they were particularly impressed by your service (or if they were very unhappy so take care, it swings both ways).
2. Channel feedback as a review
If you receive feedback from your customers directly ask them if they would mind leaving their comments as a review on your product pages.  If they don't have the time copy and paste their comments for them.
3. Ask for a review/ feedback
For orders that haven't been reviewed send a friendly message to your customers via the order page asking if they were happy with their purchase. It's a nice touch anyway and good business to seek feedback in general and this personal appeal is far more effective than an automatic email request ever will be. You can ask if they would mind leaving you their feedback as a review on your product pages.