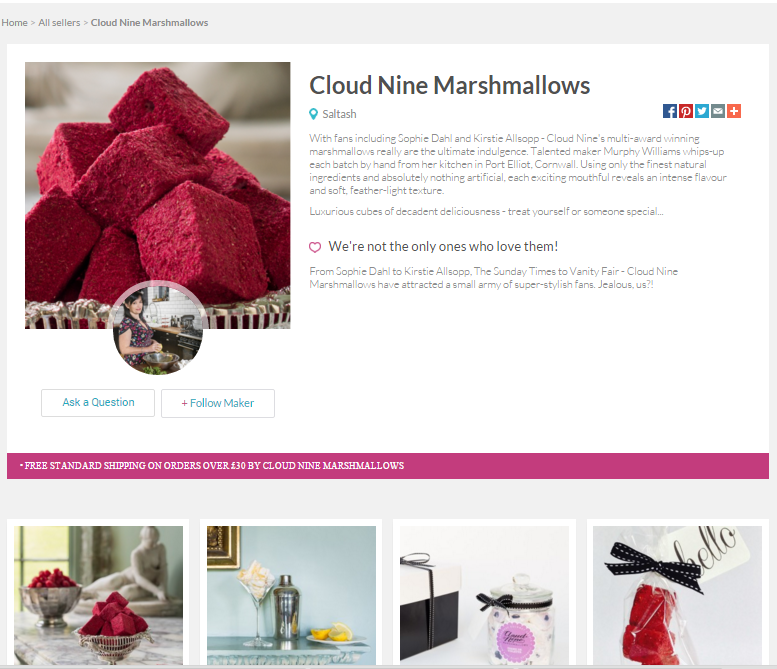 Your Seller page is effectively your Yumbles shop window bringing together key information about you along with all of your active product listings.
This page has your own dedicated URL (e.g. www.yumbles.com/cloud-nine-marshmallows) which you can use to point customers off Yumbles straight to your shop.
There's four components to your seller page:
1. The Cover photo
Select a striking image that encapsulates what your brand is all about.  As always on Yumbles, we strongly recommend lifestyle images with focus on your product over packaging shots on stark white backgrounds.
2. Seller profile image
Core to the Yumbles experience is that food fans are buying directly from you, our hugely talented food makers. We aim to re-enforce that by including in your Yumbles shop a photo of you the maker.  
3. Your bio (your brand story)
These are essentially brief succinct bios that the Yumbles team produces for you at set-up.  Our aim is to highlight your brand story - what makes you and your produce remarkable.   This is an important piece of sales real estate and one we rely on when marketing you. If  you don't feel we've captured enough your own unique story or you have some new interesting information you think we could use to update it please contact Seller Support and we'll get it updated.
4. Endorsements
The "We're not the only ones who love them!" is your brag wall - a summary of your most noteworthy claims to fame - awards, major press mentions or expert or celebrity endorsements.
For any updates to your Seller page contact Seller Support.