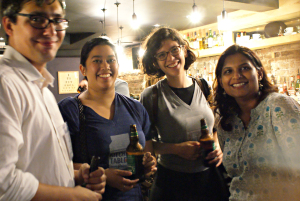 Nothing gets team Yumbles more excited than time out from behind our computer screens meeting with our fantastic makers.  Apart from perhaps eating said makers delectable produce that is…It's lucky then that we managed to combine both pleasures this week with two days walking the floor at the Speciality & Fine Food Fair catching up with almost 60 Yumbles makers exhibiting followed by hosting our latest Yumbles Makers Meet-Up.
At the meet-up we were delighted to welcome the full spectrum of our community from experienced producers who have been part of Yumbles from the very beginning –  Mark from the Gourmet Spice Company and Kathy and Mike from The Nutty Lady to name a few – together with the more fledgling members in our community including exciting new talent like Shenae and Kedeisha of Lena Rose Bakery and Catherine from Piped with Love.
It was such a pleasure seeing so many of you and catching up on your businesses.  The passion you all have for your produce is inspiration that always carries us back to the office energised to continue our mission to build a remarkable platform to showcase your efforts and help your businesses thrive.
The theme for the meet-up was Christmas and topics covered included our top 5 tips for Christmas success plus various marketing opportunities such as the Yumbles Christmas brochure.   Many of you shared news on your latest products including truly original new ideas for Christmas – Yumbles food fans are going to be spoilt for choice this year!
Here's to a very merry Christmas season for our entire maker community – and see you at the next meet-up in early 2016 ;-)