How would you like your product to be seen by over 10,000 of our most engaged food fans this Christmas? 

If this sounds like a good opportunity, don't miss the chance to book one of our Christmas Brochure packages.

Prices start from just £49 and all come with guaranteed online exposure as well as a placement in our print brochure. 

Over 40% of the placements have already been sold to sellers who came along to our Yumbles Meet-Up on Monday evening. Today we're opening-up 

the opportunity to all Yumbles sellers - places are limited, so act now.
Yumbles Christmas Brochure Packages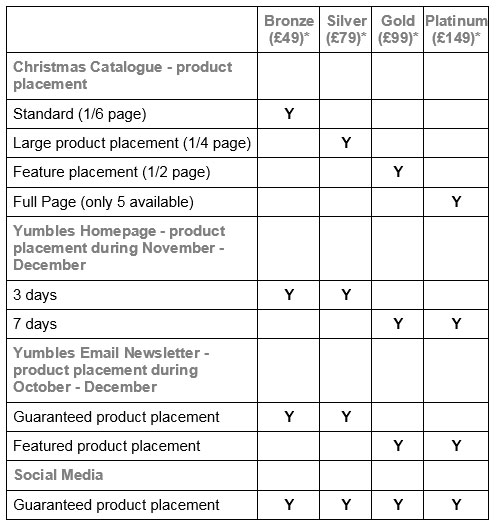 * - all prices are plus VAT at the standard rate of 20%
How To Book:
To book a package,
email us
to let us know: 
Which product you would like to feature 
Which package you would like to book 
All placements in the brochure are subject to approval by our editorial team, and allocated on a first-come, first-served basis. If you are interested in securing this additional promotion, please act quickly to reserve your slot. 
 
Important Note:
If you would like to be included in the Yumbles Christmas Brochure, you will need to list your Christmas products on Yumbles and supply us with a high resolution image of your featured product by the deadline of
Friday, September 18th
. 
If you have any questions or would like help choosing the right package for you, just
contact us
and we'll be more than happy to advise.