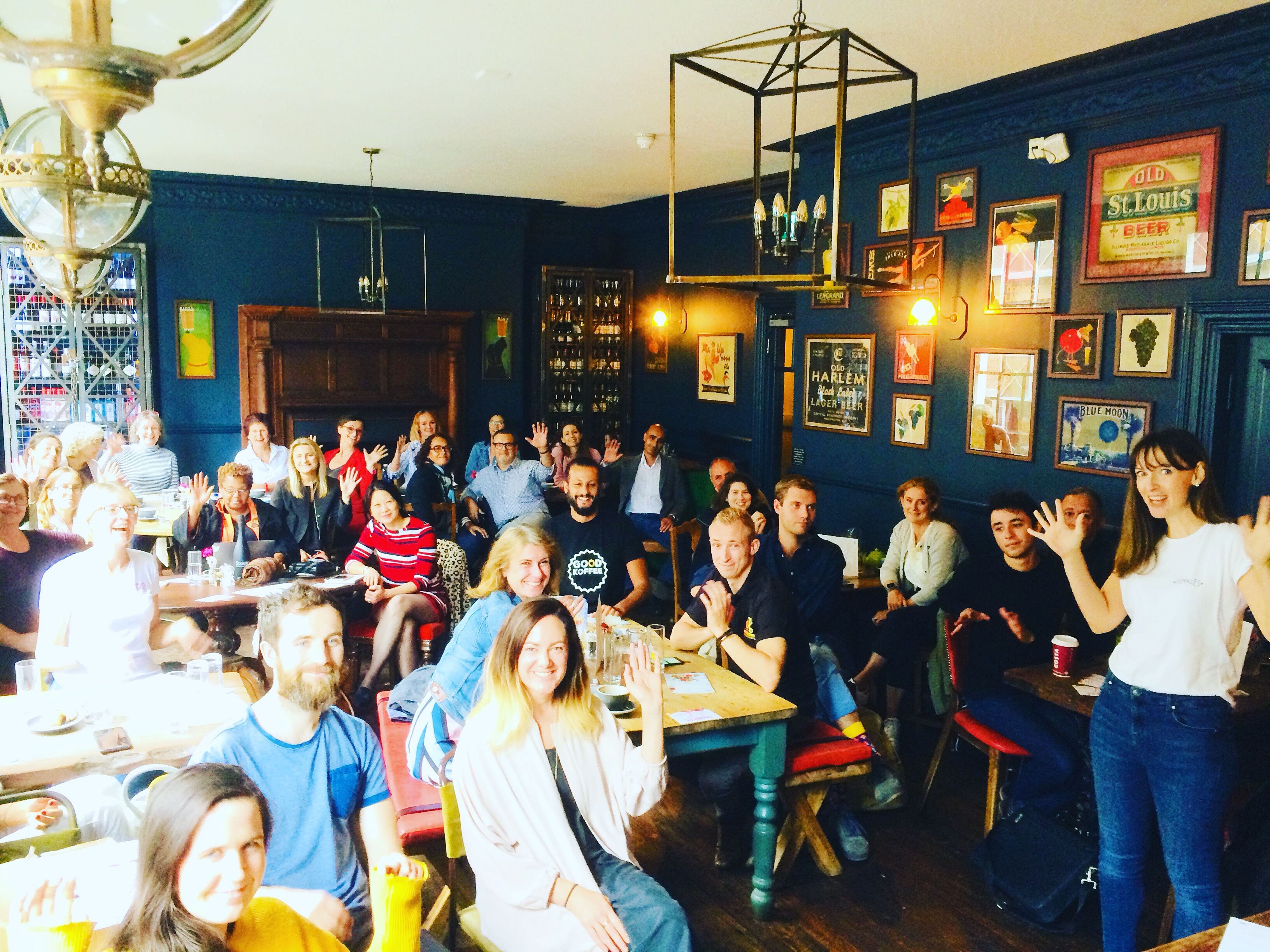 Some of you may remember that we originally had in mind to do something a little different for this year's September meet up. We had planned a much larger event than usual to provide extra valuable inspiration and advice for our makers - a bigger venue and an array of guest speakers, exhibitors and such.  However, we soon learnt that the first week of September has all kinds of conflicts for you all - schools going back, trade shows, time to take much needed holiday after the summer events and before the Christmas push...So when we saw the bookings weren't quite hitting the minimum needed for the larger event and so many of you wrote in to say you couldn't make it for various reasons we took the tough call to simplify the event and change venue for those who could come.
None of that stopped the meet-up from being a fantastic get together as usual.  We were thrilled to catch up with around 30 of our makers.  In many ways the smaller group and more informal setting allowed for richer conversations across the room.
The Talks
First up for the talks was Simos Kitiris, co-founder, who shared more of the back story of Yumbles and the mission we're on to support and champion the best of independant food makers.  He shared our view (also shared by many) that the future is very much in the hands of smaller independant food producers as conscious consumers increasingly mindful of what they eat and drink turn away from "big food".  The true food innovation and passion comes from the smaller independant food producers and we're determined to continue to support and empower talented small producers (i.e. you!) to be successful.
Katie Kitiri (the other founder) then shared 8 Pointers - eight key resources/ features/ tools available to Yumbles sellers that you might not be aware of but should!  Even makers who've been with us for years didn't know some of these!  We'll produce a video on these 8 pointers shortly and send that around so stay tuned.
Last up from the Yumbles team was a deep dive into the Christmas campaign - we shared the key campaign activities and timescales and discussed the different marketing options just announced and now available for booking.
As a guest speaker we welcomed Charlotte Moore from Smoothie PR to share her super easy but incredibly effective responsive PR tips which had everyone in the room furiously scribbling notes.  The tips included pointers on PR planning (get yourself a calendar of the food days!), suggestion to follow #journorequest on twitter to spot PR requests you might be able to jump on, and also the recommendation to try out for Small Business Sunday #SBS on twitter with her advice on how best to benefit.  
Charlotte runs the Smoothie Bar membership which is focused at helping small food businesses do their own responsive PR in just 10 minutes a day.    Charlotte will share more of her incredibly practical advice via a Seller Handbook post soon so watch this space!!
Finally our friends at Young Foodies quickly introduced themselves to the group.
Before and after the talks everyone mingled, caught up or made new contacts.  As always the room was buzzing and we've heard from so many of you that you found the meet-up incredibly useful and gave you lots of ideas - which is what it's for!
Future Meet Ups
We're committed to continuing to host these meet-ups each year and in 2019 we'll do more  - including some much needed meet-ups outside of London for better accessibility by our makers in further flung areas.   A Yumbles roadshow!  If we can find a date that works for larger numbers of you we'll also revisit the larger event originally planned which allows for deeper talks on a range of topics with guest speakers.  Stay tuned!