Christmas is big business on Yumbles with a 10x increase in traffic and sales on the site.
We're thrilled to offer 3 different marketing packages that you can opt for to help significantly boost your exposure during the peak Christmas campaign.
Please find below details on the 3 marketing packages available, pricing and how to book.
How to Book
<< Please complete this booking form >>
The Christmas Online Boost & Full Christmas Packages are now FULLY BOOKED. Final few spaces remaining in the Print Christmas Food & Gifts Guide.
1. Print Christmas Food & Gifts Guide (book now>>)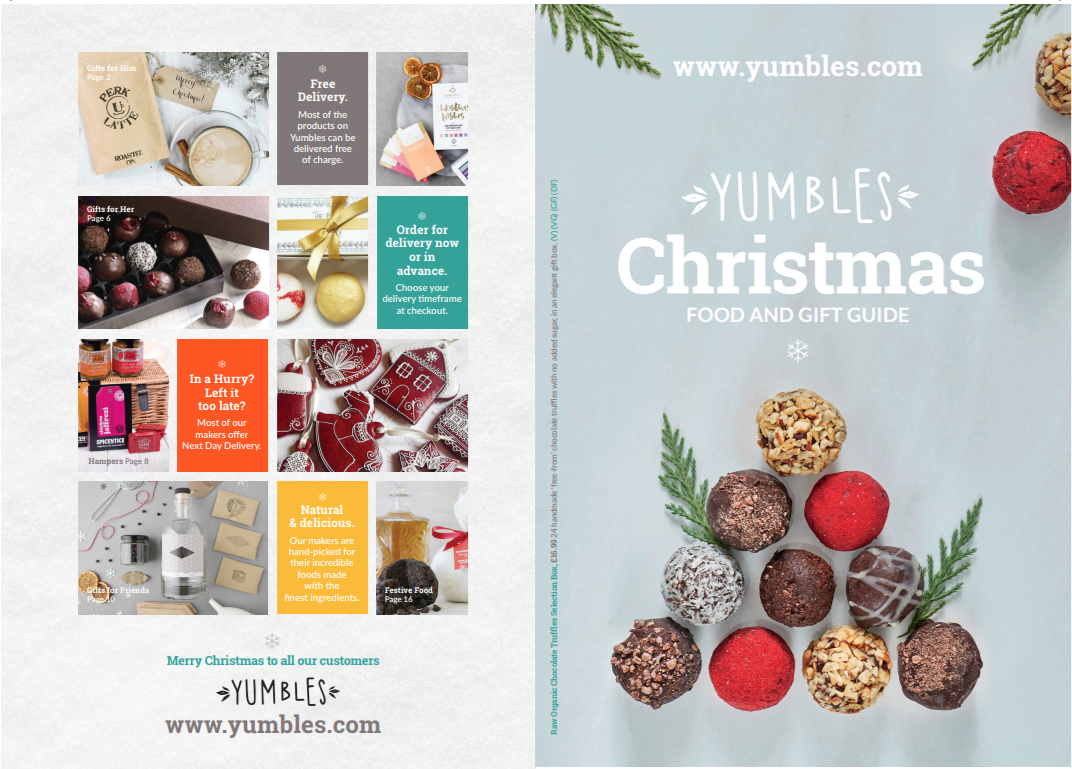 Our hugely popular annual print Christmas guide (see last year's) is sent out to the homes of our top approx. 25,000 buyers carefully selected to maximise conversion for the items featured in the guide.
All items in the guide are also then featured in a dedicated onsite ("As Seen in the Christmas Guide") category that is:
highly publicised onsite throughout the Christmas campaign
the feature of a dedicated marketing email to our full database of over 140k subscribing customers
sent to our full PR and bloggers database.
Note: the print Christmas guide is strictly limited to featuring festive foods and gifts only.
2. Christmas Online Boost (book now>>)
Significantly increase the exposure of your products on the Yumbles site and in our online marketing for the duration of the peak Christmas period (October/ November/ December) with this package which is amazing value for money.
With this package you will benefit from:
Yumbles shop review. We'll review your Yumbles shop in early October to make sure you are optimised for Christmas and give you any feedback. We'll also double check and enhance tagging and categorisation of your listings, if it is needed.
Featured Products for 3 months.

Each month across October, November and the peak weeks of December, one of your festive products will be a Featured Product on both the Yumbles Homepage and at the top of all categories it is listed in, for 7 days a time.
Email Marketing Feature (to over 140k customers!).

One of your products (or your full shop) will be featured in one Yumbles marketing email to the full Yumbles customer database during the peak weeks of the Christmas campaign in November/ December. Reach over 140k subscribers!
Facebook Post (reach over 18k!).

One of your festive products will be featured on our Facebook page (with a paid boost) during the peak weeks of the Christmas campaign in November/ December. Reach over 18k followers.
Instagram Story. At least one if not several of your festive products will be included in an Instagram story during the peak weeks of November or early December. Reach over 5k followers.
5 Tweets. We will publish a minimum of 5 tweets about your products during the peak weeks of the Christmas campaign. Reach over 4k followers.
3. Full Christmas Marketing Package (book now>>)
Can't decide? Then don't! Book the Full Christmas Marketing Package and you will benefit from ALL of the marketing features for the Print Christmas Guide AND the Christmas Online Boost, for a great saving.
Pricing
We know that life as a small business means limited marketing budgets. We strive to keep the pricing for Christmas marketing add-ons as low as we possibly can for our sellers and focus on maximum value. The Yumbles audience is over 40% up on Christmas 2018 so we're thrilled to offer most of this year's Christmas marketing options for the same if not less than last year. As always the print Christmas Guide is charged purely at production cost price.
Book before 1st September to benefit from special Early Bird Prices.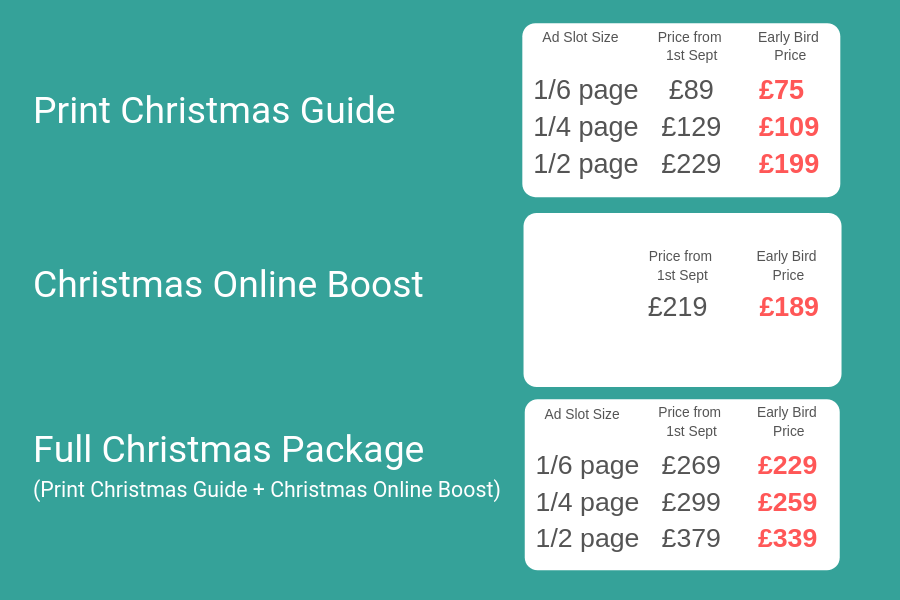 *All prices are subject to VAT
How to Book
<< Please complete this booking form >>
Spaces strictly limited. Book early to avoid disappointment, packages get fully booked quickly.