Three years ago we quietly launched the Yumbles Trade section of the site in response to the growing influx of trade buyers contacting us. This trade section enabled them to more easily discover your brands and contact you directly.

Since then, thanks to our unprecedented and highly curated catalogue of fantastic artisan and independent producers (i.e. you!), our trade database has organically grown to several hundred trade buyers. So, we thought it was high time we invested properly in Yumbles Trade so that we're not only helping you reach a large consumer audience directly, but also a large trade audience too.
In the coming weeks we will launch:
A transformed Yumbles Trade section of the site to make it easier than ever for trade buyers to discover new brands and connect with you.
Full marketing to our large trade buyer database. Including a quarterly printed catalogue and marketing emails.
Advertising Yumbles Trade to thousands more trade buyers across the UK, as a powerful free resource - the largest online catalogue of independent producers.
How can you benefit?
As a Yumbles Maker you are automatically included in Yumbles Trade and will benefit from the above developments. However, for those of you keen to maximise your exposure to trade buyers, we will also now provide you with the opportunity to receive substantially increased marketing to this audience.
Yumbles Trade Plus Accounts
Yumbles Trade Plus Accounts will be a new account upgrade available for a limited number of makers, to receive enhanced marketing detailed below.
Initially this will be available for just 40 makers at a special pilot price of just £29 per month (billed quarterly) to ensure we over deliver on value from day one. They can enjoy this special price for the full first year. A few more trade plus accounts will be made available at a later date at a higher price reflecting the growth in our trade audience.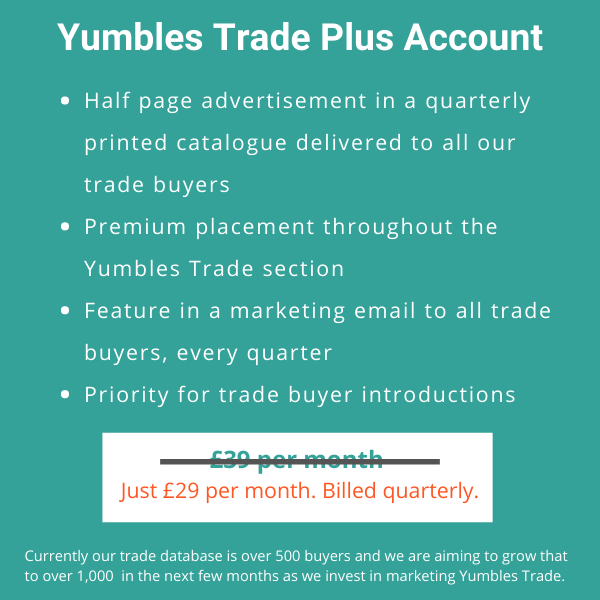 Just 40 spaces. Register your interest here>>