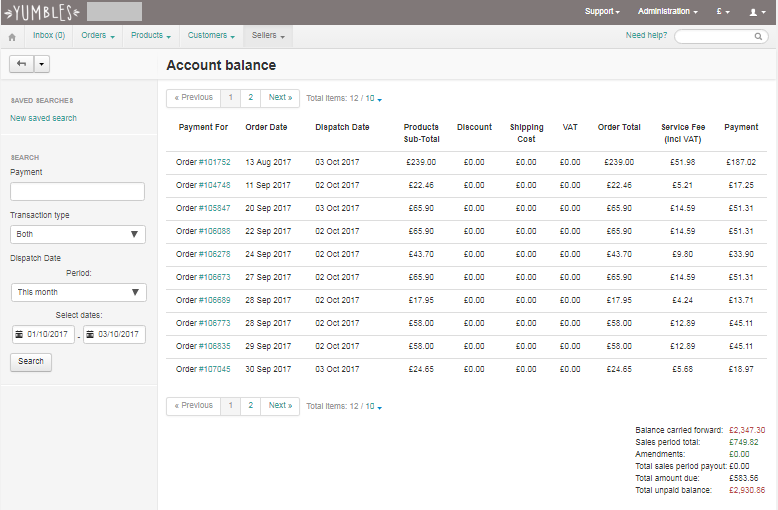 The Account Balance section in your Seller Portal gives you a running tally of your sales (dispatched orders), payments made to you for those orders, and payments due.
Using the filters on the left hand of the page you can filter the balance by the sales period (using order dispatched dates) and also view your income (sales) separately from your account balance "expenditure" (i.e. payments made to you).
Note: only dispatched orders are included in your Account Balance.
Key fields:
Products Sub-total: this shows you the total of the product related charges in that order.  If you have discounted your product prices it will add up the discounted product prices.
Discount: this confirms any discounts that you have funded (excluding product price discounts).  For example - if you offer free shipping for orders above £x, it will confirm that free shipping has been given for that order here.  If the order is a subscribe and save order then you will see the 5% discount that you fund confirmed here.  Yumbles funded discounts are

not

included here as they don't impact your account balance.
Shipping cost: the shipping charge that applied to that order.
VAT: the total VAT amount on the order.  Note this is only calculated if you have ticked the applicable tax rate field within your listings.  Products without a tax rate selected are assumed to be zero rated.
Order Total: the order total value to you the seller i.e. product sub-total plus shipping less discounts (that you fund).
Service Fee: confirmation of the service fee (inclusive of VAT) that has been deducted for that order.  Find out more here.
Payment: confirms the payment you will receive for that order (i.e. Orders Total less Service Fee).
Related articles: