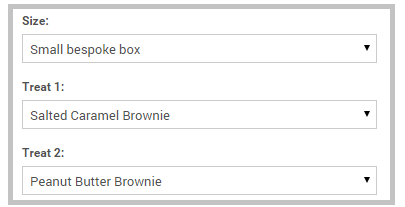 From offering a pick and mix selection of products that customer can choose for a gift box, to offering different product size variations, to a choice of gift packaging and gift message - all choices you can offer a customer for your product listing are offered by "Options".
When creating your product listing you will find an Options tab within the form where you can offer these choices.
Adding an option
Give the name of the option as a clear instruction for the customer e.g. Choose box size.  

If you have multiple options for a listing it's good practice to order them logically by appropriately 

numbering 

the "position" field for each option.  

Choose what field Type of option you want to create e.g. a select box provides a list to choose from, the text area type should be chosen for collecting text from customers such as for a gift message or personalisation text

Specify the choices for the option on the Variants tab within each option.  

The Modifier field next to each variant enables you to specify any price change if that variant is selected, if relevant.  For example if you specify £2.00 for a particular variant then £2.00 will be added on top of the listing price if a customer selects that variant.
Common (or global) options
Global options are pre-built options available to add to multiple listings.  There are some standard global options available by default such as "Add a gift message".
You can also create your own global options - ideal for options that you want to offer within several of your product listings. Create a global option on the Options page.  Once created add it easily within all relevant listings on the Options tab within each listing ("add global option").  If you select to "apply as a link" the global option it will mean any changes made to the global option in the future will automatically apply to that listing.
Forbidden combinations
For more complex products you may have several options for customers to choose from but not want to allow all possible combinations.  Or some options may be irrelevant depending on what they have chosen in other options so you want to hide them (e.g. don't show them a personalised text option if they haven't chosen to upgrade to personalisation in a previous option). 
The options page within your product listing contains a Forbidden Combinations section where you can specify such rules.  
For example: you sell a bespoke cake box that comes in two sizes - large and small. The customers can choose 6 cakes for the large box, and 4 cakes for the small box.   You would create 5 options, "Select box size", "Cake 1", "Cake 2" ...."Cake 6".  To then forbid and hide the selection of cakes 5 and 6 if the small cake box is chosen, you need to create one forbidden combination. The forbidden combination would specify for the option "Select box size" = Small, mark "Any variant" for "Cake 1" etc and then for "Cake 5" and "Cake 6" select "No variant can be selected".
Top tip: options can be complicated for customers so make sure they are really easy to follow. Always click on Preview to check your listing as a customer before you finish.