Advance orders enable customers the ability to order what they need for a later date whether it is a gift they want to arrive with the recipient around the correct date, items they want for Christmas, or a wedding cake to be delivered fresh in time for their big day.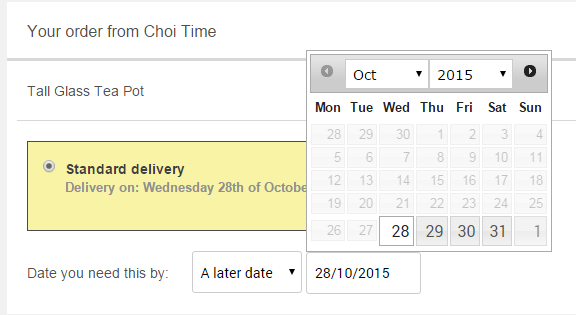 Customers select this at checkout.
The estimated delivery timescales for the order are shown by shipping option. The customer can choose to revert to a later delivery date instead.
Customers are advised to allow 1-2 days leeway on any date they choose - it is still an estimate (unless they are selecting Next Day or Saturday Day delivery which are guaranteed delivery dates).
All of your orders will indicate the date that they need to be delivered by, and for advance order requests it will highlight that it was an advance order with a specifically requested time frame.
Dispatching Advance Orders
Regular orders need to be dispatched asap and always in time to meet the estimated delivery timescales.  
Advance orders need to be dispatched at a later date to be delivered as close to but no later than the requested delivery date.  
Don't ship too early - there's a reason they asked for the later timescale!!
Advance orders can be seen on the filtered Advance Orders tab, and will also appear on your Due for Dispatch filtered tab when they are within a few days of their requested delivery date.
You should also receive an automated reminder around 1 week before an advance order is due but never rely on email reminders, make sure to keep check on your Due for Dispatch list to see what's coming up.