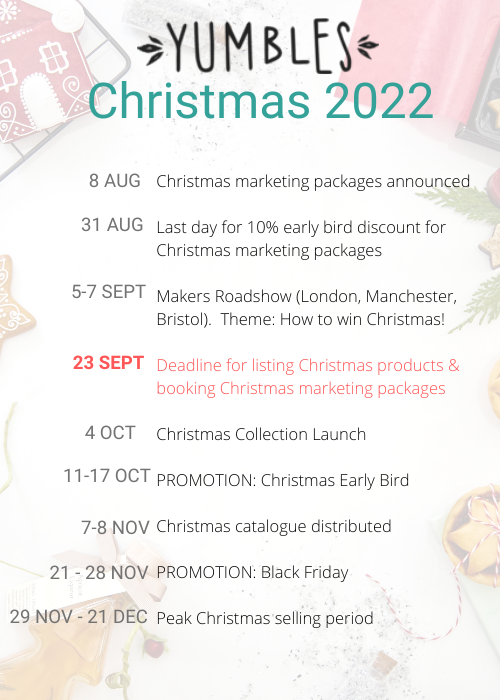 It's officially that time of year again when Christmas prep is all go! With the continued strong growth of the marketplace this year we are gearing up for another record breaking Christmas period. To set you up for success here is a handy reference for the key dates and activities of the Christmas campaign to be aware of and plan for.
Christmas Products
If you're not already finalising your product offering for Christmas then we do strongly recommend that you do. We ask that Christmas products are listed no later than Friday 23rd September. But really the sooner the better, particularly if you are also targeting corporate gifting.
You can list your Christmas items for sale on a pre-order basis - see this guide to listing Christmas products.
Listing by this date is essential so that we can factor your products into our marketing plans, include them in our PR pitches, and also ensure they are curated into Christmas categories in time for marketing that starts in earnest in early October.
List your Christmas products >>
Christmas Marketing Packages
Each year we offer a range of marketing packages to help you maximise your exposure during the Christmas campaign. The packages include having your Christmas products featured in a printed Christmas catalogue delivered to the homes of around 30,000 top buyers, email marketing features to almost 500k email subscribers (up from 380k in 2021), prominent onsite features during the peak Christmas period, social media posts and more.
These packages are strictly limited and always get fully booked quickly so do take a look asap if you're interested. Get 10% off if you book by the end of August.
See the Christmas Marketing packages >>
Christmas Promotions
We run two major promotions during the Christmas period - an Early Bird promotion in early October and then we have the Black Friday promotion at the end of November.
You can opt into the promotions from here.