With Christmas fast approaching it's key to fully manage buyers expectations in terms of your delivery times, particularly so that they can shop with confidence as to which items they will receive in time for the big day.
Below is a recap of the tools available to you to do this - including the Christmas Orders Cut-off Date feature.
Estimated Delivery Dates
The settings defined for each of your shipping methods are used to automatically calculate the estimated delivery dates shown to buyers both on your product pages, at checkout and on their order confirmation. 
Buyers place close attention to and rely on these estimated delivery dates when placing their orders.
It's always worth reviewing these settings again at this time of year to make sure that they correctly reflect the service you provide in the run up to Christmas.
Christmas Orders Cut-Off Date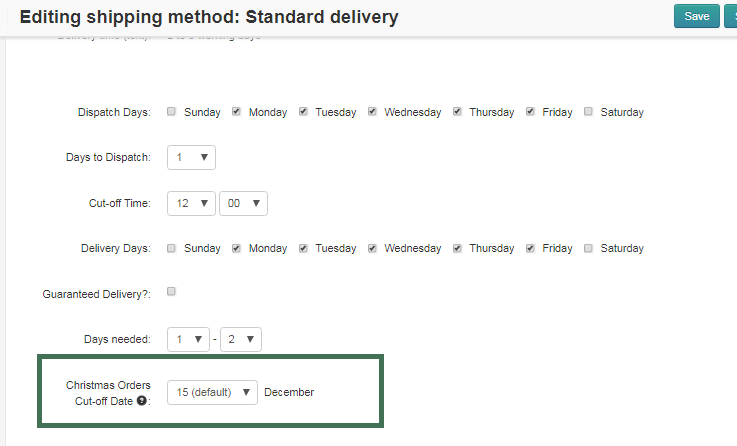 Within each of the shipping methods that you offer there is a field to confirm the Christmas Orders Cut-off Date.  
This date confirms up to what date buyers will still see estimated delivery dates for your products showing as in time for Christmas. After the Christmas Orders Cut-off Date buyers will see that your estimated delivery dates are after Christmas (i.e. 27th December onwards).
The default date indicated is automatically calculated from your delivery settings. 
For example:
if you have a standard delivery method with settings of 2 days to dispatch, with a midday cutoff time and 1 day to deliver (and dispatch and delivery days both Monday to Friday), then the automatically generated Christmas Orders Cut-off Date will be Wednesday 19th December (at 12:00pm).
An order placed at 11am on Wednesday 19th December will show estimated delivery by Monday 24th December.  At 12:01pm on that same day (i.e. after the cut-off) buyers will see an estimated delivery date of Thursday 27th December. 
Changing the Christmas Orders Cut-off Dates
If the default Christmas Orders Cut-off Date for any of your shipping methods is not correct e.g. perhaps in the last few days before Christmas you are speeding up to dispatching within 1 day to maximise orders, or perhaps you want to add in some contingency that close to Christmas, then you can manually edit the Christmas Cut-off Date to override the default setting making it later or earlier as needed.
Holiday Mode
If you are taking a well earned break and not processing orders for more than just the public holidays around Christmas and New Year then don't forget to set-up your holiday mode.  You can do this in advance at anytime.
Orders that fall within your holiday dates will have their estimated delivery dates adjusted accordingly to show delivery after you return.  To find out more see this guide.
Customer Communication & Delays
It is imperative that you keep buyers updated on their orders by using the order statuses correctly - not doing this can lead to significant customer dissatisfaction at anytime of year but especially at Christmas.
See our guide to managing orders.
If delivery for a particular order within the timescales indicated on the order are not possible always amend the estimated delivery date by clicking on "Edit" in the order next to the dates  (or place it on BACK ORDERED status if revised delivery dates are not yet clear) and send the buyer a message.