We have a range of features and integrations to make life as easy as possible to manage your Yumbles orders. Many of these features also help signficantly with customer service - by ensuring customers get any available order tracking information automatically - so we strongly recommend that you make use of them where possible.
Royal Mail Click & Drop
If you have a Royal Mail Click & Drop account you can easily connect your Yumbles account for seamless shipping (and improved customer service).
See the guide for how to do this here >>.
DPD Local
If you use DPD Local to ship orders then you can connect your Yumbles account to your DPD Local account for seamless shipping (and improved customer service).
See the guide for how to do this here >>.
Mintsoft
If you use Mintsoft as your order management system then Mintsoft have made available an integration to bring in your Yumbles orders automatically. If you can't find the integration available to set-up in your Mintsoft account then contact your Mintsoft account manager.
ShipStation
Coming soon! Stay tuned...
Manually Exporting Order Data
If you would like to import your Yumbles order data into your own order management system and/ or a shipping account (that is not DPD Local nor Royal Mail) for printing shipping labels then you can manually export your order data from the Seller Portal as needed.
To do that, from the Orders page simply select the orders you would like to export and click on the settings cog icon in the top right of the page to choose "Export selected". You can then choose the columns of data you want to export and download it.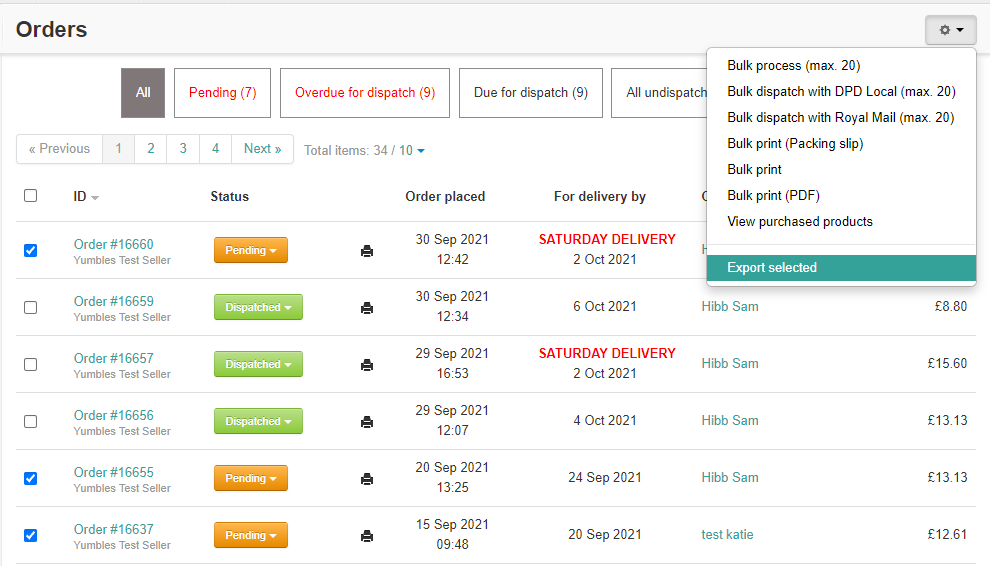 Yumbles Order Management API
If you don't use any of the systems mentioned at the start of this guide, and rather than the manual export & import method described above, you can use our Order Management API to automatically bring your Yumbles order data into any other order management system.
By using the order management API you will be able to perform the following tasks from your own order management system for Yumbles orders:
View all order data
View and print Yumbles packing slips
Update order statuses (e.g. to Dispatched)
Amend the estimated delivery dates of orders
Add an internal Staff Note to the order
(Note, you will still need to login to the Seller Portal to manage customer messages).
To use this Order Management API you will need someone technical to set it up for you.
If you have someone technical and would like to use our API then simply contact Seller Support. We will then send you a) the technical documentation and b) the API key for your Yumbles account, with these two things your tech person will be able to complete the set-up.