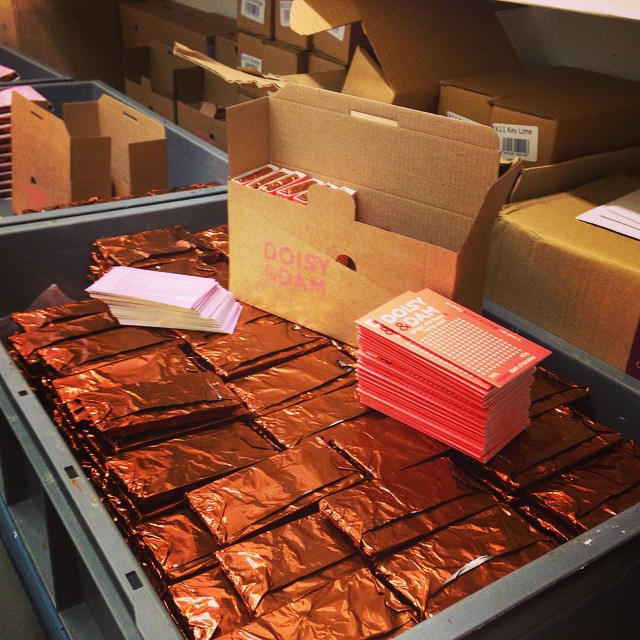 Behind the scenes at Doisy & Dam - where the magic happens!
You're listed on Yumbles the UK's largest artisan food and drink marketplace. Time to sit back and wait for the orders to roll in right?
Well not quite. Being listed on Yumbles plugs you in to a great and ever increasing exposure opportunity, but just like having a stall at a real market, your success depends on what you put in.
Our Selling Online - The Recipe for Success Webinar is a great place to start to understand all the key factors that can influence your online sales.
8 must do steps to succeed:
1. Review your product range
Is the range of products you offer on Yumbles optimal? Consider:
are they appropriately targeted at the Yumbles audience?

are your products sufficiently differentiated from others available on the marketplace, including at a first glance from the listing?

Does the USP of what you offer standout, and is it unique to other items in your category?

are you offering your products in a format that suits online sales? Remember that no-one goes online and buys 1 jar of something for example. If you offer your products in quantity and/ or product bundles do you have the right quantity/ the right bundle offering?

consider ideas like pick and mix selection boxes, and taster packs where relevant to your products to encourage new customers to try your products.
Also - if the range you have offered on Yumbles has not changed for more than a year then consider introducing additional products. This will likely get you featured again in the popular New category and hopefully in some further marketing.
2. Invest in your "shop"
Make sure that your online shop is top notch. Are you presenting your product range in the best way possible?
Key things to look at:
Great product images - check out our guide.
Fantastic product descriptions - check out our guide.

Offer reasonable shipping charges and in keeping with your typical order values - "£10 to ship a £3 jar? No thanks!". If your products have a low unit value think about offering them in quantity or in logical product bundles so that the economics make sense to buyers.

Are you missing reviews? If you're delivering great service to Yumbles customers then the reviews should follow. However if you're new to Yumbles or have yet to receive many orders you can add existing testimonials you have from customers outside of Yumbles.
For gifts:
Make sure buyers can see how the gifts come packaged- presentation is everything in gifting.

Add a Gift message option.
3. Maximise your search friendliness
Listing on Yumbles you are automatically benefiting from extensive search engine optimisation and paid internet marketing.
Help increase the exposure of your listings by:
making sure that your product listing names are search friendly - check out the guide
adding tags to your product listings - check out the guide

make sure you have completed the Values section in your listings - selecting every value that applies. Other than showing important info on your product pages, these values also determine whether your products appear in all manner of search results.
4. Spread the word about your Yumbles shop
The more sales you have the more your visibility will rise on the marketplace.
Kick start your sales by letting your fans know you've been hand-picked to be a Yumbles seller:
announce the news on your social media

add a link to your Yumbles shop on your website

if you have an email database send out a newsletter
5. Participate in different marketing opportunities
Help us promote you more by actively partipating in marketing opportunties.
See our guide here to all the options available to you.
6. Promotions
You can offer a promotion at any time on Yumbles which can be great to kick start sales, acquire new customers or reward loyal customers. When you run a promotion you will instantly appear in the featured Offers category and have a high chance of being included in email marketing and so on.
See our Promotions guide.
Also:
get involved in major promotion periods such as Black Friday/ Cyber Monday weekend and the January Sale. The key promotion periods can be seen in the "Yumbles Promotions" list in the promotions tool.

include the Yumbles packing slip in every order - it contains a discount code for your customers, that is funded by Yumbles
7. Deliver a great service
It's age old but for good reason. Giving great customer service leads to happy customers and happy customers mean more sales, referrals and great product reviews.
In particular be sure to:
keep your stock levels (available to buy quantity) up to date as much as possible to avoid disappointment.

ship your amazing produce

on time

, within the estimated delivery dates (or within 1-2 days of the requested dates for advance orders)

keep your order statuses up to date so that customers are kept informed and assured of their order

if the parcel is being sent out tracked - provide the tracking information to the buyers

reply quickly to customer messages in your

inbox
8. Marketing Add-Ons
We have some marketing add-ons that can provide you with boosted exposure at a time when you most want it. Find out more about Featured Products and our multi-channel Marketing Packages (coming soon).
Related articles