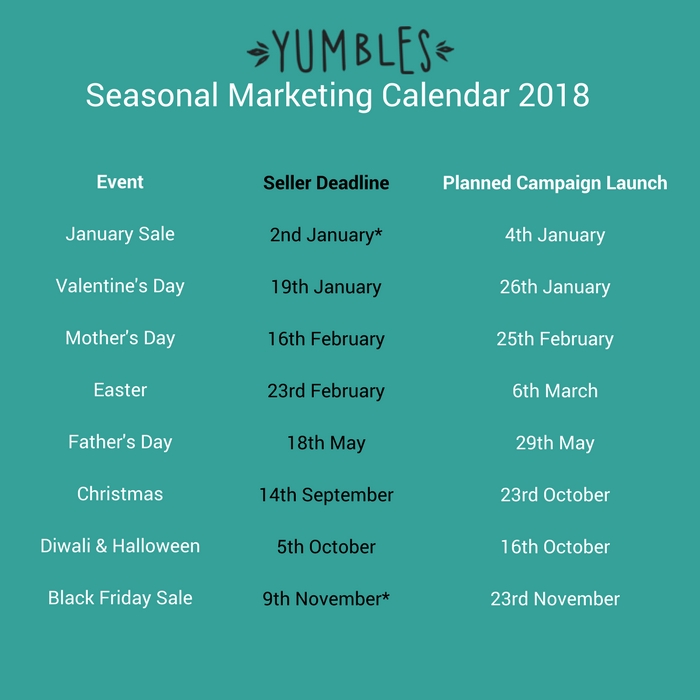 *For the sale periods the deadline reflects the date to confirm your involvement in the sale.  For all other events the deadline is the deadline to list and activate your seasonally relevant products.
Here's our handy calendar giving you key cut-off dates so that you don't miss out on marketing opportunities.
For each event you will find the:
Seller Deadline

: 

our curation of the seasonal category and selecting the key products we're going to feature in marketing during the campaign period concludes at least 1 week before starting the campaign period or earlier for major periods like Christmas.  

Planned Campaign Launch

: this is the start of the seasonal campaign on Yumbles i.e. when we launch the seasonal category on the site and actively start promoting products in our marketing channels.
Note:  PR actually gets underway 2-3 months ahead of a seasonal event. 
What you need to do
1. List your seasonal products as early as possible in the Seller Portal so that we have visibility of them and can include them in our marketing plans.  Don't just wait for the listing deadline - the earlier we have visibility of the items the more likely you will be included in marketing plans.
2. For the Black Friday and January sale periods let us know as far ahead as you can (and certainly by the "seller deadline") whether you plan to participate and if so what discounts you plan to offer.   We'll send a sign-up form ahead of these sale periods for you to complete. 
Listing your seasonal items
If you have any seasonally relevant items not yet listed on Yumbles then be sure to list them ahead of the Seller Deadline to make sure they can be included.
Create your new product listings in the Seller Portal.  See our listing guide.
As always list your product in the category that best describes what it is.  The Yumbles team will curate all relevant items in to the seasonal categories.
If the details/ images aren't yet finalised for your new products then list them but keep the listing status as "Disabled".  Once finalised you can update the listing before marking the status as "Active".  
If you're not yet ready to sell (but you're happy for the product to be public) then set the Available Since date in the Availability section of your listing as the future date.  This will enable you to start building advance orders.
NOTE: all existing listings will be automatically considered for each seasonal event.  Just update the listings if needed with any relevant information.