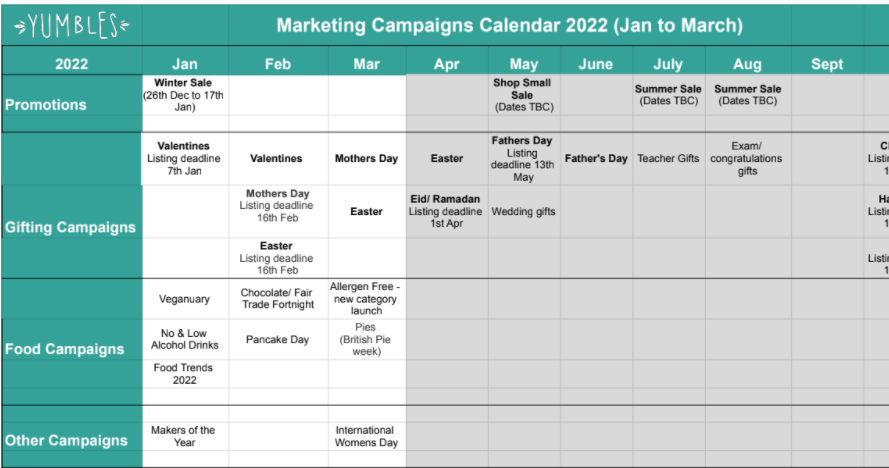 To give you a good idea of the key marketing campaigns we run throughout the year , and how you can get involved we publish this high level marketing calendar each quarter.
View 2022 Marketing Calendar here >>
* Note: the 2022 Marketing Calendar currently shows January to March 2022. It will be updated in March 2022 to show the plan for April to June, and again in June for July to September, and in September for October to December.
Key Promotions
Through the year we run key promotion campaigns (such as the Winter Sale or Black Friday).
You can choose to opt in to these promotions via the Promotions page of the Seller Portal. (The same page where you can also create and run your own price promotions at anytime through the year.)
The earlier you schedule yourself on to the planned promotions the better - we plan out the marketing weeks ahead of time and look at who is scheduled to participate when deciding which products to feature.
For more information on Promotions see here.
Gifting Occasions
There are 5 major gifting occasions of the year that we do focused campaigns on - with the biggest campaigns being Christmas and Easter.
The campaigns for these gifting occasions launch some weeks before the event date - Christmas launches in October, and Easter is usually launched 5 to 6 weeks before.
For these campaigns our activities include:
curating a collection of the most relevant products in a dedicated seasonal category that will then be shown prominently onsite and used in all campaign marketing for the campaign duration
sending a preview of the seasonal collection out to our full database of journalists and bloggers as part of our PR efforts.
a series of dedicated email newsletters to our full customer database (where they are opted in to marcomms)
social media
extensive paid online advertising
Listing Deadlines
To ensure that your seasonally relevant items are included in these campaigns make sure that they are listed AND with an active status AND with an available to buy quantity by the Listing Deadline indicated below for the key events (and see the calendar).
You can still list after these dates BUT it will not be maximising your potential sales because: a) your listing may not be curated into all relevant categories as we finalise the curation for each seasonal category soon after the listing deadline, b) we will not be able to consider featuring your product(s) in the marketing that we finalise soon after the deadline and c) customers do shop early and make use of advance ordering!
| | |
| --- | --- |
| Key Events | Listing Deadline |
| Valentine's | Friday 7th January |
| Mother's Day | Tuesday 16th February |
| Easter | Tuesday 16th February |
| Father's Day | Friday 13th May |
| Halloween | Friday 16th September |
| Christmas | Friday 16th September |
Listing your seasonal items & Pre-Order
Create any new seaonal product listings in the Seller Portal. See our listing guide.
If you're not yet ready to ship the items (but you're happy to start taking orders) then make use of the Pre-order settings in listings to show clearly to customers that your items are available on a pre-order basis. See our guide to Pre-Orders.
NOTE: all of your existing listings will be automatically considered for each seasonal event. Just update the listings if needed with any relevant information and make sure they are ACTIVE and have a positive number in the Available to Buy quantity box.
Other Key Campaigns
In addition to the promotion periods and major gifting occasion campaigns, each month our marketing also focuses on particular categories of product or topics.
For those campaigns we will manually curate relevant makers and/ or products to feature. To boost your chances of being included in relevant campaigns see our Guide to...Getting featured in Yumbles marketing.
Related articles: