Listing on Yumbles automatically gets your products in front of thousands of relevant buyers everyday, and the opportunity to be included in the various marketing campaigns we run across multiple channels.
Featured Products enables you to gain even greater exposure when you need it by promoting a specific product via dedicated, highly visible positions across the site and in our marketing.
We have three Featured Product slots to choose from - a Category placement, a Homepage placement, an Email Placement.
Plus then a combined "Online Boost" package which includes all feature slots.
Availability for each slot at any one time is strictly limited.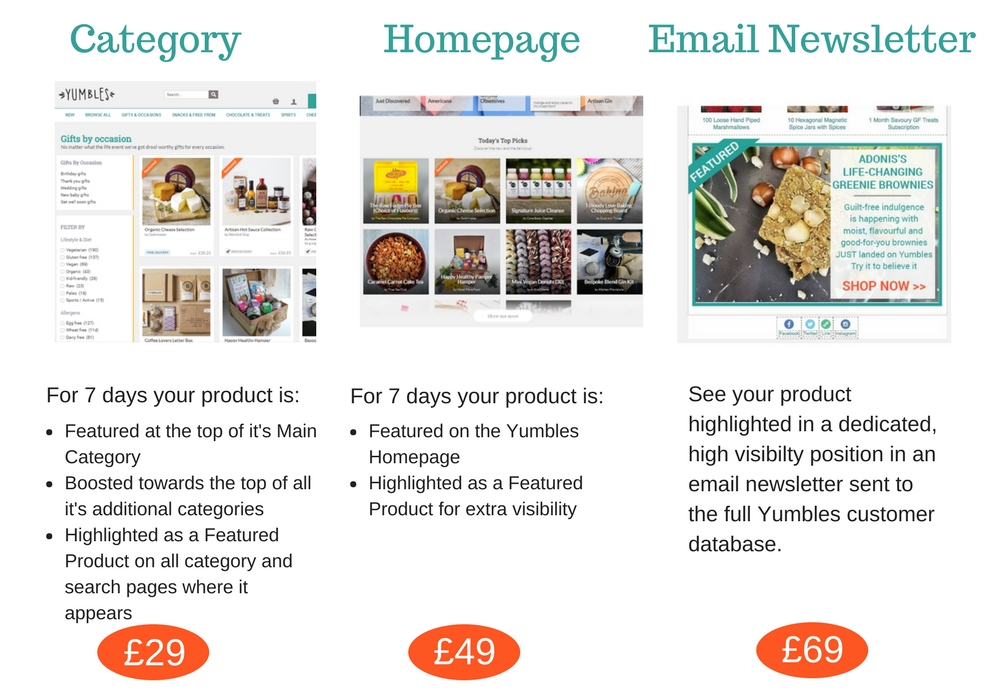 How to Book
Go to the

Yumbles Marketing page

Select the Feature(s) that you would like to book, or the combined Online Boost package

Add to basket and complete checkout
FAQs
1. When will my product be featured?
For Category and Homepage Featured Products, as long as there is a slot available it will typically be within 1 week of your booking. Otherwise we will schedule it in at the earliest possible time and let you know.
For Email Newsletter Featured Products and Online Boost campaigns we will confirm the date with you, usually these need 2-3 weeks notice.
2. Do I only have my products marketed by Yumbles if I pay for a Featured Product?

No! By listing on Yumbles your products are already shown to thousands of potential buyers. They are shown across the Yumbles marketplace, visible in category and search pages, and benefiting automatically from our search engine optimisation across search engines like Google.
Furthermore we have always and will continue to feature specific products in our email marketing, online paid advertising campaigns, social media activity and in PR as much as we can. However the extent to which your products are included in these marketing channels is subject to our marketing planning, the performance of your products and your customer service.
The Featured Product placements enable you to get additional guaranteed marketing activity that can provide you with an extra boost when you need it.
3. For the Category Feature, is my product going to be at the top of every category the product is shown in?
All product listings on Yumbles have one designated "Main Category", and then Yumbles curate the listings into Additional Categories.
The Category Feature puts your product at the very top of the Main Category it is included in on rotation for 7 days. Furthermore the feature will boost the appearance of the product in all Additional Categories, in most cases it will guarantee your product appears on page 1 at least, if not at the very top too.
Wherever your product listing appears - any category pages, and also in search results, your listing will be clearly highlighted as a Featured Product.
4. I can't decide which feature to choose!
Each position has a different reach so is priced very reasonably in line with the degree of impact it is expected to have in terms of extra people seeing your product, and extra sales potential, so choosing between them is mostly a question of your budget.
We provide guidance within each feature as to what they are most suited for.