Launched in October 2022, this is a big opportunity to have one of your products, and your brand, put in front of hundreds of thousands of Yumbles customers in a dedicated big splash campaign.
What is Exclusive Offers?
A recurring major multi-channel marketing campaign where we will showcase fantastic products (one at a time) and entice Yumbles customers to try them.
Approximately 1-2 times per month we will alert all Yumbles customers across the site, via email and on social media, to a major exclusive discount on one product, for a very limited availability.
The product on offer will be featured via:
A dedicated landing page on the site showing the offer

Onsite banners & pop-up notifications promoting it

Push notification to over 200k registered customers

A dedicated marketing email to almost 500k subscribers announcing the offer

Social media posts

Our Food Explorers Club members will be given early access to the offer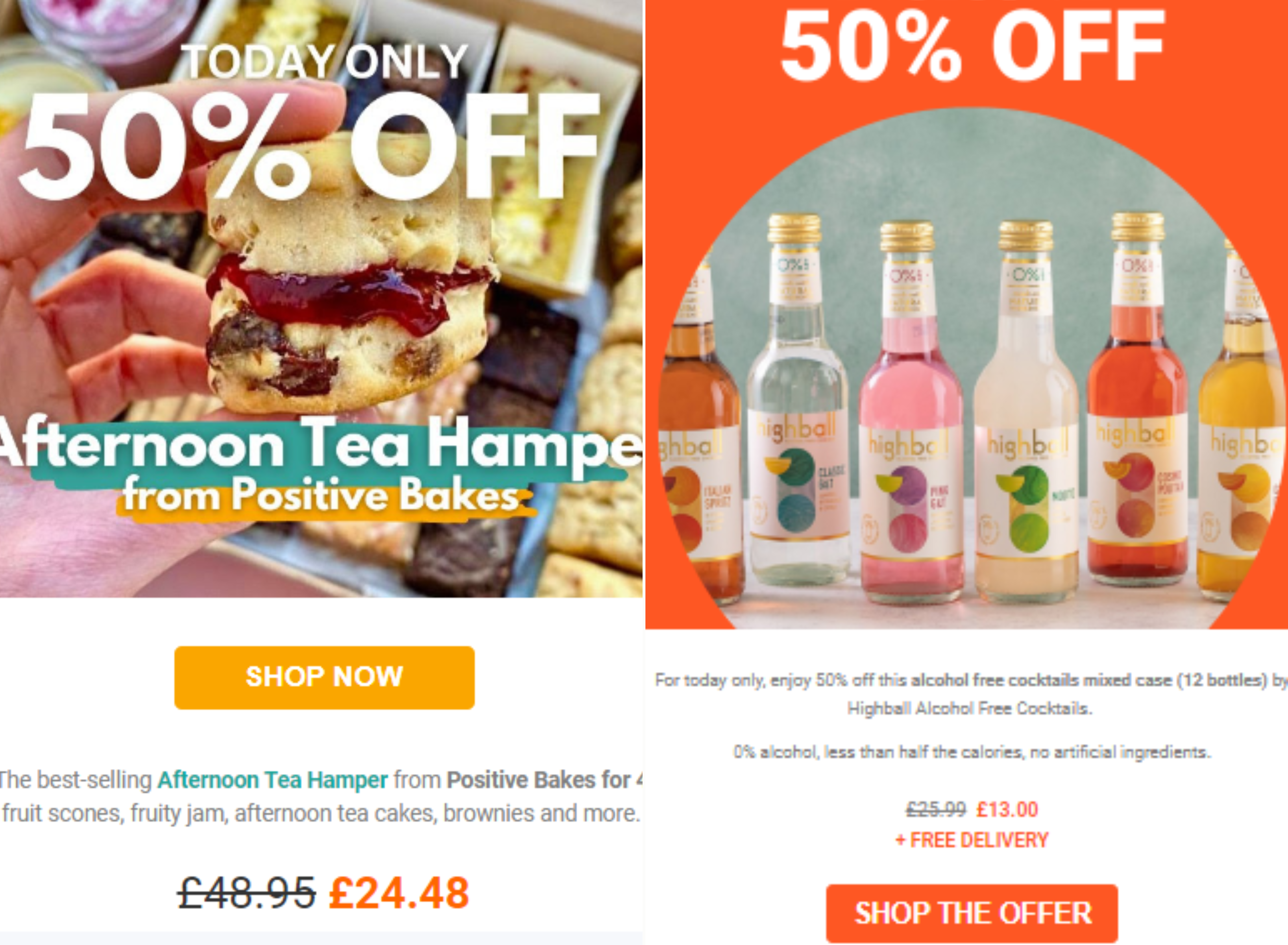 Benefits to you
A unprecedented level of promotion to hundreds of thousands of Yumbles customers for one of your products and your brand name as the seller will be included.
Even once the offer has run out, any customers still arriving on the dedicated offer landing page will be directed to your listing to shop.
The ask & commercials
We ask that you provide at least a 50% discount on one of your products for at least 40 units. You choose the product but we ask that it is a particularly popular product with as wide appeal as possible.
We will then waive our commission on all orders for this offer (including on the shipping charge).
So for example, if you wish to provide an offer for 50% off a £25 product for 40 units, and your usual shipping charge is £3:
40 orders at £12.50 will give you a payment of £620 (£500 sales plus £120 delivery charges).

Usually for selling those 40 units on Yumbles at unit price of £25 you would receive a payment of £863.68 (£1,120 less our commission of £213.60 plus £42.72 VAT)

So the effective cost of this marketing opportunity for you and the promotion it will give your brand is £243.68 (or £200.96 if you are VAT registered and claim the VAT on our commission back usually.)
How to get involved
If you would like to register your interest, then submit your exclusive offer proposal via this form.
We will contact you when we are able to schedule your offer in and arrange the timing and logistics with you. We take care of it all, there is little you need to do once you agree on the offer and when it runs.
Please note we will pick the Exclusive Offers to run based on the following criteria:
A discount of at least 50% for at least 40 units

A wide appeal product

The product listing on Yumbles has great product photos

The seller has a Green rating. (Not sure what this is? See here.)
Want to participate and see what such a major promotion could do for your business? Then register interest here.
Related articles:
Marketing Opportunities on Yumbles - An Overview